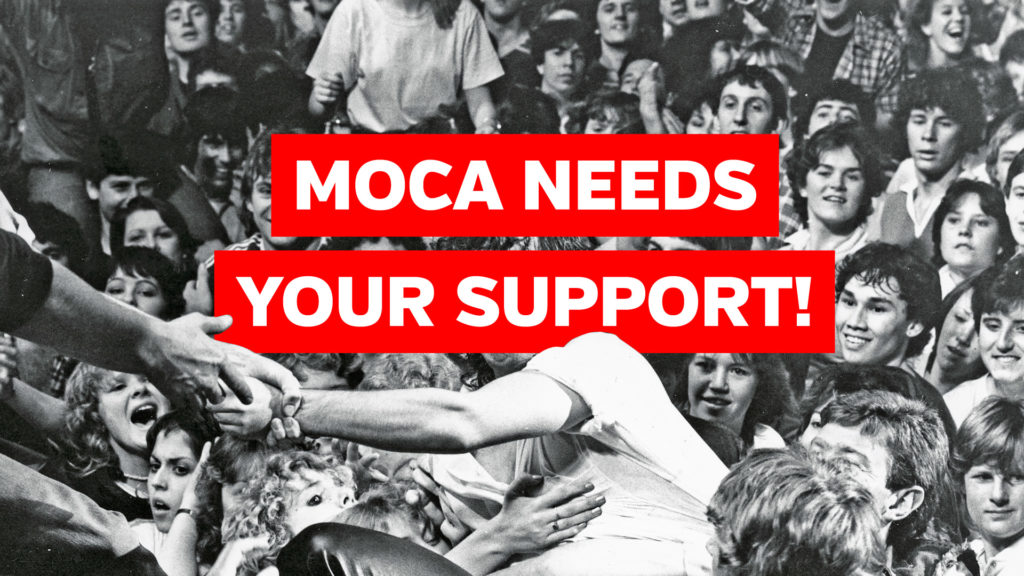 YOUR DONATIONS HELP US THRIVE! DONATE TODAY to support contemporary art in your community. YOU keep us vibrant and relevant.
Sponsorship & Support
There are a number of ways that you can support MOCA. In addition to cash donations and event or exhibition sponsorships, we accept stocks and real estate and are available to discuss planned giving options.
With gratitude to our donors
$50,000+
E. Courtney Johnson
Holualoa & Kasser Family*
Fletcher & Liz McCusker
The Andy Warhol Foundation for the Visual Arts
National Endowment for the Arts
Windgate Foundation
$25,000+
John Burcher*
Aroha Philanthropies
Arizona Commission on the Arts
$10,000+
Carolyn Bass*
Terri Kessler & Lisa Lovallo
Jordan D. Schnitzer
Amy Zuckerman
Mel & Enid Zuckerman*
Arts Foundation for Tucson and Southern Arizona
The Gadsden Company
Tucson Lifestlye
University of Arizona
$5,000+
Samuel Ireland
Rick Joy and Claudia Kappl Joy
Olivier Mosset
BRINK
Community Foundation for Southern Arizona
Pima Community College Foundation
HSL Properties
Trinity Project Investors, LLC
Vantage West Credit Union
$2,500+
Anonymous
Stephen & Susan Balsamo
George Bradbury
Elizabeth Cherry
Karen Christensen & Kenneth Kay
Paul DeJoe
Kira Dixon-Weinstein & Adam Weinstein
Randi Dorman & Ron Paulus
Chrissy Frey
Jean Hoffman
Bettie Johnson
Liana & Michael Krupp
Lizbeth & George Krupp
Charles G. Stone II & Kimberly von Brandenstein
James Tharp & James Lindheim
Danny Vinik & Mary Ann Brazil
Arizona Arts
Cox Communications
Desert Diamond Casinos & Entertainment
Long Realty Cares Foundation
Pueblo Vida Brewing Company
Southwest Gast Corporation
$1,000+
James H. & Frances R. Allen
Annamaria & Giuseppe Biagini
Anthony Canchola
Monika Dorman
Robert & Laurie Kaye Glaser
Pam Grissom
Lia Hager
John Hudak
Angela & Michael Kapp
Penny & Dan Kautz
Kwan Lee
Justin Martinez & Erika Santa Cruz Martinez
Max McCauslin
Stephen Quinlan & Ron Garnica
Catherene "Renee" Morton
Barbi Reuter
William Russo & Richard Giuliani
William Hank Rutter
Peter F. Salomon & Patricia Carr Morgan
Jerusha & Marc Schmalzel
Laura Smith & Martin Nederpelt
Luis R. Soto & Beatriz Carrillo
Randi & Harlan Steinberger
Joanne Stuhr
Kerry & Jeff Winkleman
David Wright & Lysa Stone
Anat Ebgi Gallery
Downtown Development Corporation of Tucson
Metropolitan Tucson Convention & Visitors Bureau
Tofel Dent Construction
*MOCA Major Donor Circle, multi-year giver
MOCA's Major Donor Circle provides critical funds for enhancement and growth of the museum's operations, ensuring the long-term success and sustainability of the organization. For information on joining MOCA's Major Donor Circle, please contact Kate Green at kate@moca-tucson.org