With gratitude to our donors
$50,000+
The Andy Warhol Foundation for the Visual Arts, Inc.
E. Courtney Johnson**
Fletcher & Liz McCusker**
National Endowment for the Arts
$10,000+
Carolyn Bass *
The Gadsden Company
Institute for LGBT Studies
Terri Kessler & Lisa Lovallo
National Endowment for the Arts
Amy Zuckerman
Mel & Enid Zuckerman *
$2,500 +
Anonymous
Arizona Arts
Stephen & Susan Balsamo
George Bradbury
Elizabeth Cherry & Olivier Mosset
Karen Christensen & Kenneth Kay
Community Foundation for Southern Arizona LGBTQ+ Alliance Fund
Desert Diamond Casinos & Entertainment
Kira Dixon-Weinstein & Adam Weinstein
Randi Dorman & Rob Paulus
Liana & Michael Krupp
Lizbeth & George Krupp
Long Realty Cares Foundation
Justin Martinez & Erika Santa Cruz Martinez
Southwest Gas Corporation
$25,000+
Arizona Commission on the Arts
Aroha Philanthropies
John Burcher *
Holualoa & Kasser Family **
Windgate Foundation
$5,000+
Arts Foundation for Tucson and Southern Arizona
Community Foundation for Southern Arizona
Chrissy Frey
Samuel Ireland
Mister Car Wash/Car Wash Partners, INC
Pima Community College Foundation
Pueblo Vida Brewing Company
James Tharp & James Lindheim
The Trinity Office and Residential
Vantage West Credit Union
Danny Vinik & Mary Ann Brazil
$1,000+
Anat Ebgi Gallery
Anonymous
James H. & Frances R. Allen
Anthony Canchola
Luis Soto Carrillo
Cushman & Wakefield | PICOR
Bettie Johnson
Angela & Michael Kapp
Penny and Dan Kautz
Kwan Lee
Max McCauslin
Metropolitan Tucson Convention & Visitors Bureau
Stephen Quinlan and Ron Garnica
Hope & Craig Reed
William Russo & Richard Giuliani
Peter F. Salomon & Patricia Carr Morgan
Laura Smith & Martin Nederpelt
Randi & Harlan Steinberger
Charles G. Stone II & Kimberly von Brandenstein
Joanne Stuhr
Tofel Dent Construction
Keren & Jeff Winkelman
David Wright & Lysa Stone
**Luminary: $25,000/year multi-year gift
*Visionary: $10,000/year multi-year gift
MOCA Visionaries and Luminaries are part of MOCA's Major Donor Circle. This circle provides critical funds for enhancement and growth of the museum's operations, ensuring the long-term success and sustainability of the organization.
For more information on Visionary and Luminary gifts, please contact Kate Green at kate@moca-tucson.org
---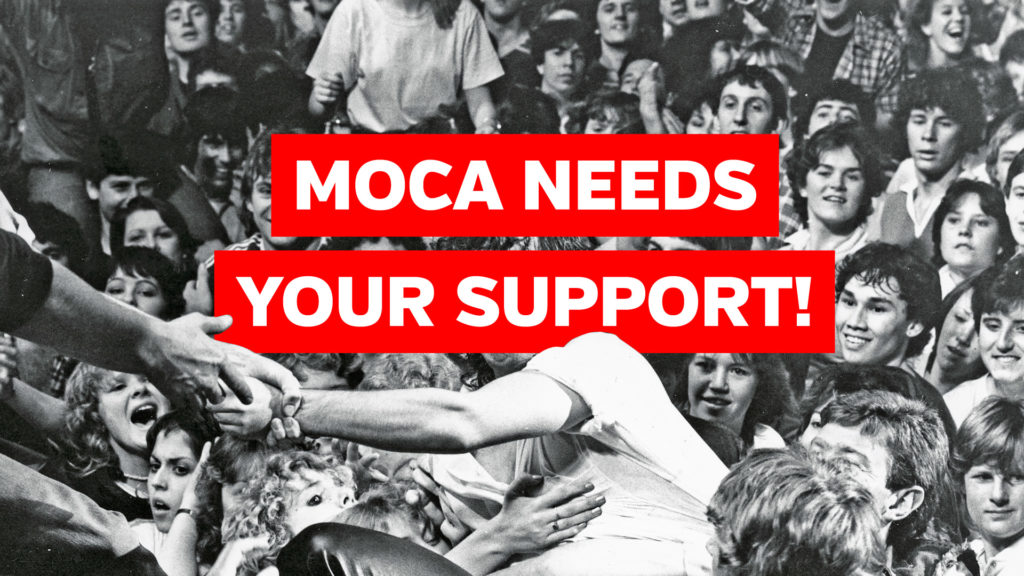 YOUR DONATIONS HELP US THRIVE!
Donate today to support contemporary art in your community. YOU keep us vibrant and relevant.
CLICK HERE TO MAKE A ONE-TIME DONATION TODAY!
Sponsorship & Support
There are a number of ways that you can support MOCA; in addition to cash donations and event or exhibit sponsorships, we also accept gifts such as stocks and real estate. We are always available to discuss planned giving options that have favorable financial and tax benefits.