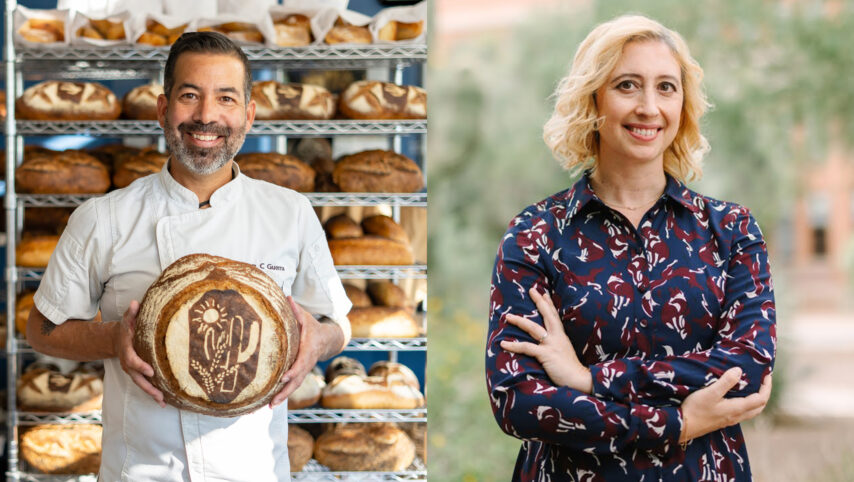 Presentation & Conversation:
Jennifer Carlson and Don Guerra
2023 Local Genius Awardees
Thursday, March 9, 2023
6:00 PM - 7:30 PM
2023 Local Genius Awardees Jennifer Carlson and Don Guerra will each give short lectures discussing their creative and professional achievements that are being recognized for their global impacts and innovative approaches. Carleson's award-winning research examines how guns shape American life and Guerra's internationally-recognized work aims to revive heritage grains and build a sustainable grain economy in southern Arizona. 
Presentations will be followed by a conversation and audience Q&A.
—
The 2023 Local Genius Awardees are award-winning sociologist and researcher Jennifer Carlson, Ph.D.; hydrologist Karletta Chief, Ph.D.; sociologist Celestino Fernández, Ph.D.; baker and Barrio Bread founder Don Guerra; and late writer and journalist Tom Miller. Join us as we honor the Local Genius Awardees at MOCA's 2023 Gala on April 15th with dinner, music, an auction, and dancing.
—
Jennifer Carlson, Ph.D. is an associate professor of sociology and of government and public policy at the University of Arizona and a 2022 MacArthur Fellow. Her award-winning research focuses on the politics of guns in American life. She is the author of three books—Citizen-Protectors (Oxford),  Policing the Second Amendment (Princeton), and Merchants of the Right (Princeton)—and has published widely in journals such as the American Journal of Sociology, Social Problems, Social Forces and Gender & Society. She is a frequent contributor to leading news outlets such as PBS, the New York Times, NPR, USA Today, and the Los Angeles Times. She is currently conducting National Science Foundation-funded research on gun violence survivors. She received her PhD in Sociology in 2013 from the University of California, Berkeley. 
Don Guerra uses flour and water to build connections and to make the world a better place. Guerra founded Barrio Bread in order to revive native and heritage grains and to build a sustainable grain economy in southern Arizona. Guerra unites regional farmers and millers in bringing healthy whole grains, flours, and breads to consumers, expanding the meaning of Tucson's gastronomy. With his unique, naturally fermented breads, he promotes biodiversity and drought tolerance, and enhances the nutrition and flavor profiles of the regional food supply. Guerra has won numerous awards, including the 2022 James Beard Award for Outstanding Baker. He shares his knowledge through interactive workshops and in the classroom with school children, at Tucson Village Farm and the University of Arizona.
About the MOCA Local Genius Award
Founded by MOCA in 2009, the Local Genius Awards honor visionary and innovative Tusconans whose activities have a global impact and whose talents have been internationally recognized. The Awards are a testament to the rich intellectual diversity of Tucson and a reflection of MOCA's commitment to honoring cutting-edge creativity in all disciplines and practices.