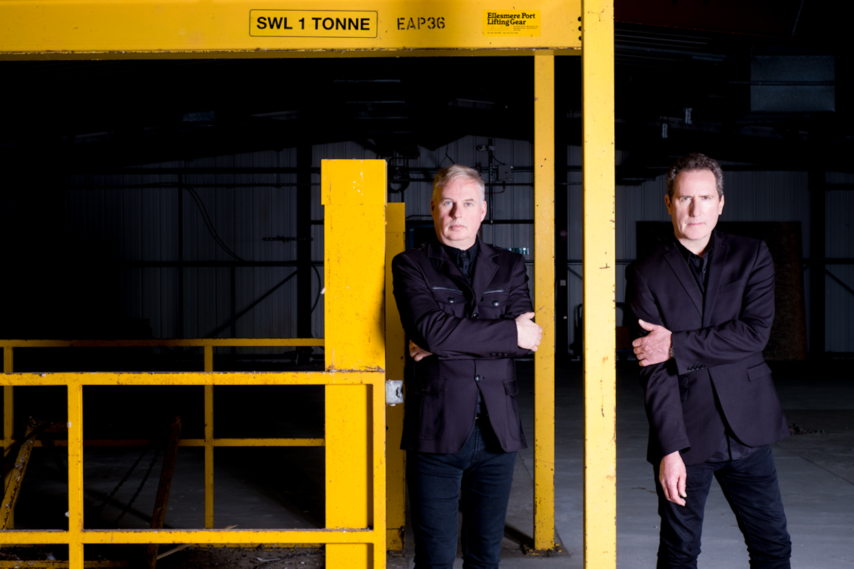 Orchestral Manoeuvres in the Dark VIP "meet and greet", reception, and dialogue
January 19, 2019 5:00 PM - 7:00 PM
MOCA Tucson is pleased to bring Orchestral Manoeuvres in the Dark (OMD) to MOCA for a VIP "Meet and Greet" and dialogue with KXCI's Elva de la Torre on Saturday, January 19, 2019, 5pm-7pm at 265 S. Church Avenue. This intimate evening is in conjunction with the exhibition Dazzled: OMD, Memphis Design and Beyond on view at MOCA Tucson from January 19 through April 11, 2019. The VIP event at MOCA Tucson will preface a full concert of OMD's work with a focus on the album "Dazzle Ships" at The Rialto Theatre on Tuesday, January 22.
5:00pm: Cocktails and OMD "Meet and Greet" (VIP EVENT, TICKETS REQUIRED)
5:30pm: Dialogue between OMD and KXCI's Elva De La Torre (VIP EVENT, TICKETS REQUIRED)
7:00pm: MOCA Members' Preview – FREE
8:00pm: Public Reception with live DJing by Dave Wright and Falcotronik from KXCI's Under Surveillance – FREE
Individual tickets and discounted combo tickets for the VIP event at MOCA Tucson and the full concert at the Rialto are available. Individual tickets are $75 and include an open bar from 5:00pm-7:00pm on the 19th. Buy your tickets to the VIP event HERE!
Tickets for the January 22nd OMD performance at the Rialto Theater go on sale 10/26. To purchase tickets visit: HERE
ABOUT THE PRESENTERS
Orchestral Manoeuvres in the Dark (OMD) was founded by teenage pals Andy McCluskey and Paul Humphreys, who have retained their friendship over an impressive career spanning four decades. Their debut single, "Electricity" was released on Factory Records in 1979, and 1983's "Dazzle Ships" is now regarded as an experimental classic. The group has appeared a staggering twenty-nine times on "Top of the Pops". Most recently OMD performed in front of 35,000 people at the Rewind Festival, as well as a series of performances with the Royal Liverpool Philharmonic Orchestra in celebration of their 40th Anniversary. These electronic pioneers are equal parts conceptual art project as they are pop stars. Andy McCluskey says "electronic music is our language…we took alternative music into the front rooms of every house in Britain". During their career OMD have sold an astonishing 25 million singles and 15 million albums, all while remaining uncompromising and unwaveringly innovative. OMD is coming to Tucson for the first time in over 30 years to play a special concert to celebrate the opening of "Dazzled" at MOCA Tucson; the performance at The Rialto Theatre will include several songs from "Dazzle Ships" that have never before been played in the US, including a "semaphore performance" of the seminal song, "ABC Auto Industry".
Elva De La Torre is a DJ, Producer, and Director of Outreach with 91.3 KXCI. She's hosted the Friday night show The Wire Service for more than five years, focusing on indietronic, dream pop, Afrobeat, and classic new wave. Elva grew up in LA and spent her formative years driving all over the Southland attending concerts, both big and small. She was in the mosh pit at a Ramones show in 1987 (losing a shoe and gaining some bruises), watched X perform at The Roxy, and had lunch several times while watching No Doubt perform free concerts at Cal State Fullerton in the early 1990s. She first saw OMD in 1986 and is currently looking for her concert t-shirt.