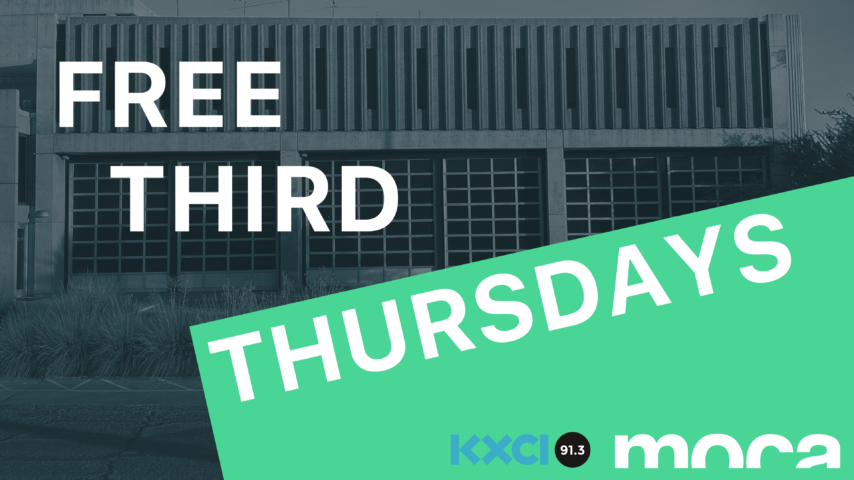 Free Third Thursdays
MARCH 17, 5:00 PM - 9:00 PM
Join us for a free evening at MOCA with galleries open late, live music by KXCI Community Radio's DJ Wesley Rae, one-night-only artist videos by Jellotonin and Nika Kaiser on view, and free local brews. Don't miss this lively time to gather around art, music, and drinks!
On view in the East Wing Galleries is the group exhibition Mujeres Nourishing Fronterizx Bodies that explores food security, self-representation, and self-determination through a series of new works that examine what it means to nourish brown bodies alongside the U.S./Mexico border during a global pandemic.
In the Great Hall, expereince one-night-only screenings of video works by Jellotonin and Nika Kaiser.
A video by Jellotonin is composed of video paintings she created using a digital video palette. For Jellotonin, "the composition transitions between bright colors, heavy darkness, greys and stark blacks moving at various speeds in an attempt to demonstrate how our lives can change in polarizing ways, from one instant to the next. Life is chaos."
About her two films on view, Nika Kaiser states "drawing from aesthetics of early video game technologies and citing the surrealist iconography of filmmaker Maya Deren, these films are experiments that operate in cycles. Increased visual relation is built between textures and symbols through the collaging and abstracting of forms from the natural world."
Third Thursdays are presented in collaboration with KXCI Community Radio.