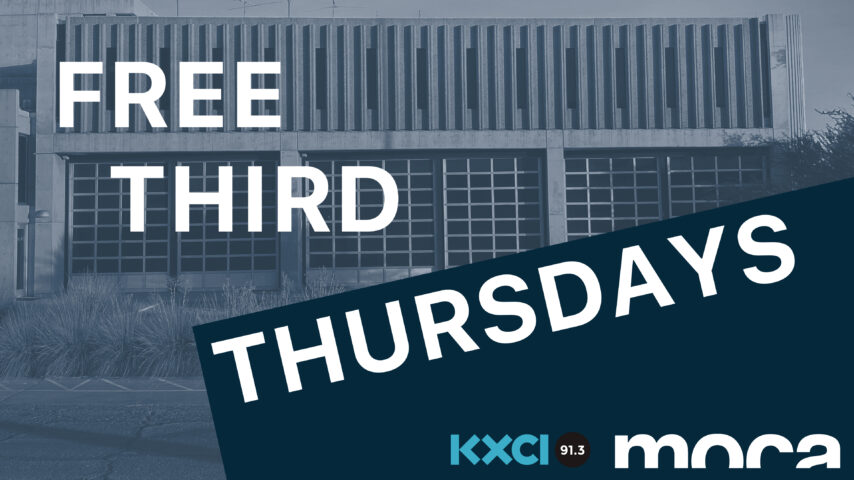 Free Third Thursdays
September 21, 2023
5:00 PM - 9:00 PM
Join us for a free evening at MOCA with galleries open late, live music by KXCI Community Radio DJs, food by Brujería Pupusería, and free beer by Barrio Brewing Company. Don't miss this lively time to gather with friends and family around art, music, and drinks; all ages are welcome!
Assembly: Sonoran Quipu of Encounters | 6PM
Join us for an open conversation in celebration of Cecilia Vicuña's Sonoran Quipu to consider together what we can do for the Sonoran Desert, and how we can help each other in our individual and collective work. The conversation will be guided by poetry, music, and movement.
The Assembly will begin with an audio message of opening words sent by Cecilia Vicuña, and poems read by Claire Hong and Susan Briante.
Then, all are invited to share a response to the questions posed by Vicuña:
What can we do to care for the Sonoran Desert, and the land in this region?
How can we help one another, individually and collectively?
The Assembly will close with music and movement.
—
About the Exhibitions
On view in the Great Hall is Cecilia Vicuña: Sonoran Quipu, a sprawling sculpture composed of plant and industrial materials that invites viewers to consider the beauty and precarity of our world, and our interconnected relationship to the environment and each other. On view in the East Wing Galleries is Na Mira: Subrosa, a solo exhibition featuring two corresponding film installations that engage with memory, diaspora, non-linear time, and electromagnetic frequencies; and Raven Chacon: While hissing, a solo exhibition featuring video installation, graphic scores, and performance that celebrates sound as a medium for resistance and connection.
Third Thursdays are presented in collaboration with KXCI Community Radio.
In-kind support provided by Barrio Brewing Company.