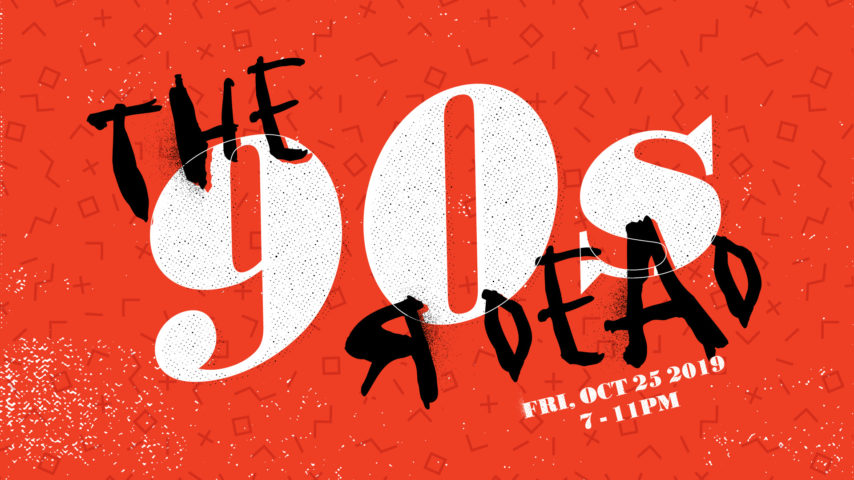 Fall Fundraiser: The 90s Я Dead
October 25, 2019 7:00 PM - 11:00 PM
MOCA Tucson's Fall Fundraiser is the most bizarre, not-to-be-missed art party of the year and our 5th Annual, timed to incorporate the Halloween season, is no exception. The tradition of audacious entertainment and outrageous costumes lives on. Join us for a trip back to a 90's subcultural reality where Club Kids rave and Grungers zone out to live music, performances and DJ tunes. Drinks, club food, art installations, popups, photo booths, and costume contest will startle the senses with surprises.
Dress: Come as you were
Tickets
Individual: $75 (regular admission) and $100 VIP ticket (includes VIP room access)
5 Ticket Party Pack: $350 (regular admission) $450 VIP ticket (VIP room access)
*Online registration closes 10/25/2019 at 8AM, but you can still buy your tickets at the door!
What you get:
Fly 90s party vibes, immersive art experiences, vintage fashion pop-ups, and rad raffle prizes
+  2 floors of sick DJ sets, live music and performance art by Instant/é, Ojalá Systems, Halsero, Altrice, Natalie Brewster Nguyen, and more
+  Tasty treats including classic club grub by Welcome Diner, nostalgic 90s munchies, and kick-ass drinks by Tito's Vodka, Founders Brewing, Tap & Bottle, and Owl's Club
+  Head-snapping costumes and the most outrageous Halloween photo-ops of the season
+  That warm fuzzy feeling you get knowing you supported MOCA's cutting-edge education, exhibition, and artist residency programs
Congratulations to our 90s CRinGe Photo Contest Winners!
These 5 lucky folks received 2 tickets each to the Fall Fundraiser, hooray!
Performers and Providers
Eli Burke
KXCI
Big thank you to our partner Tito's Handmade Vodka for their support. Sign up to be a Tito's Taster for recipes, news & event info, dogs, swag, and lots of love. www.titosvodka.com/titos-taster
Thank you to our sponsors and collaborators!
Welcome Diner Tucson, Tito's Handmade Vodka, Karolina Tumilowicz, Founders Brewing Co., Instant/é, Halsero, Ojalá Systems, Lex Gjurasic, Eli Burke, KXCI Community Radio, Michaela Dannenbrink, Owls Club, AC Hotel by Marriott Tucson Downtown, GRO$$, Hotel McCoy, altrice, House of Hatters, Dom Orozco, 81 Barbers, Lesli Wood, John Burcher, BRINKmedia, Nathan Lovelady, Wylwyn Reyes, Tap & Bottle, Kira Dixon-Weinstein, Mercado San Agustin, Courtney Johnson, Westbound, Empire Pizza, BreakOut Studios, Royal Room, Natalie Brewster Nguyen, Zia Records, Meow Wolf, Buffalo Exchange.
Special thank you to the host committee: Kira Dixon-Weinstein, Courtney Johnson, John Burcher, Harold Dale Thomas, Sara Hubbs, Luc Rollin Goodhart, Wylwyn Reyes, Eli Burke, Ryan Hill, Anne Ranek, Morah Riedl, Lesli Wood, Christine Donley, Madison Cooley, Carrie Jean Hess, Lulu Simpson, Dom Orozco, GRO$$, Nathan Lovelady.