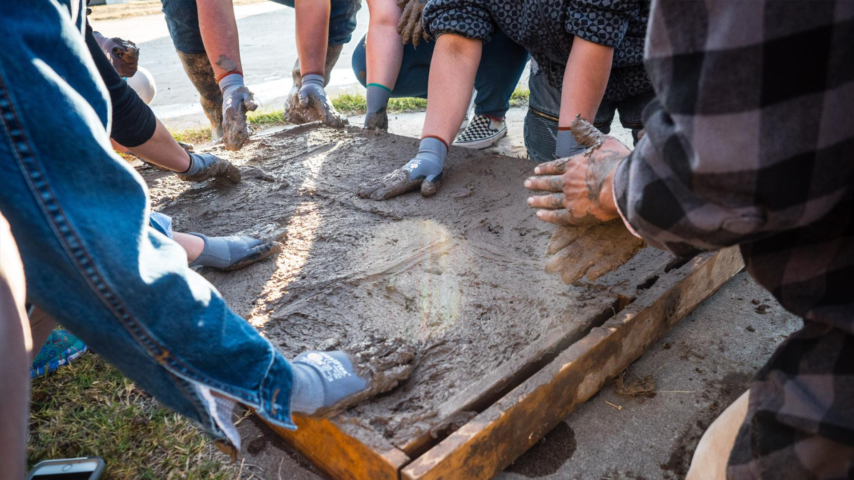 Adobe-Making Community Day
October 2, 2021
7:00AM - 9:00AM & 9:30AM -11:30AM
Join artists rafa esparza and Timo Fahler to learn how to work with adobe. Adobe plays a large part in the artists practices and will be central to their upcoming exhibition, were-:Nenetech Forms, opening October 8th at the Museum. Join MOCA for a morning of hands-on adobe making, and get your hands in the dirt with the artists and other participants! Both sessions are free and open to the public with advanced registration.
Attendance information:
Participants must register in advance, space is limited. Participants should make sure to wear clothes they are okay getting dirty. Rubber boots or other waterproof footwear are not required but recommended. A reminder that this event takes place outside, though much of the work area is shaded by tents, make sure to take sun-protection measures. Sun screen and sun hats are encouraged. Participants should also bring ample amounts of water and stay hydrated.
Session 1:
October, 2nd 7:00AM – 9:00AM (Session Full)
Register Here!
Session 2:
October, 2nd 9:30AM – 11:30AM (Session Full)
Register Here!
To ensure the safety of all museum visitors and staff, please note the following protocols will be followed at this event:
All visitors and staff are required to wear masks and practice social distancing at all times when on the museum premises (indoor and outdoor), regardless of vaccination status.
Capacity will be limited to 12 attendees with advanced registration required.
were-:Nenetech Forms is co-organized by artists rafa esparza, Timo Fahler, and Curator-at-Large Laura Copelin with support from Assistant Curator Alexis Wilkinson.
Generous support for the exhibition is provided by the University of Arizona School of Art and Arizona Arts, The Diane & Bruce Halle Foundation, VIA Art Fund and Wagner Foundation, and Arizona Humanities.
Image Credit: Adobe Workshop with rafa esparza at Marfa High School, 2017. Photo by Rowdy Lee Dugan.