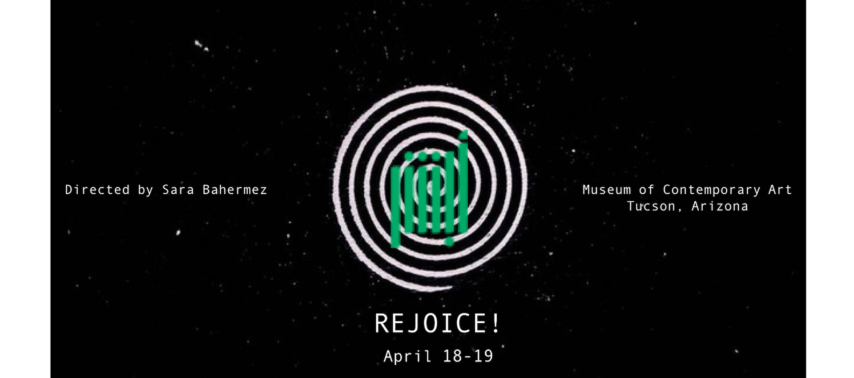 Absher/Rejoice! by Sara Bahermez
April 18, 2019 6:00 PM - April 19, 2019 7:00 PM
Thursday, April 18
Doors open at 5:00pm
6 people available per time slot: 6:00pm, 6:40pm, and 7:20pm
Friday, April 19 6pm
Doors open at 5:00pm
6 people available per time slot: 6:00pm, 6:40pm, and 7:20pm
$5 tickets available online at moca.z2systems.com/eventReg.jsp?event=724& or at the door. Spots purchased at the door will be first come, first served.
Absher/Rejoice! is an immersive escape room and multimedia installation. This conceptual work-in progress by Sara Bahermez explores the intersections of technology, gender rights and cyber utopias in Middle-Eastern Gulf states. 
In these states, revolutionary queers and women exist in hyper-surveilled livelihoods to camouflage through a state fabricated 'moral citizenship'. Navigation through ministries, prisons, medical systems or state-funded institutions becomes incredibly dangerous. As militarized culture continues to encourage heterogenous nationalism in citizens, this installation asks: what are the ways in which the state and citizens obscure from each other? 
Inspired by the new government-backed application created for the Saudi population in collaboration with Google called 'Absher' (which translates to 'rejoice'). While this app makes   state services more accessible for citizens, it also actuates the guardianship laws that restrict the movement of women in the country (written permission to drive, go to school, exit or enter the country, etc from a male guardian). Among the app's features is that gives male guardians options to track and stop their dependents from being able to make decisions for themselves. 
'an ideal good (eu) yet nonexistent (ou) place (topos)' -Federico Cugurullo 
ABOUT THE ARTIST
Sara Bahermez is a Yemeni-Emirati experimental and multidisciplinary designer, director, performer and educator for Abu Dhabi, UAE. She holds a Bachelor of Arts from NYU Abu Dhabi, and an MFA in Theatre from Towson University as a Fulbright Scholar. She is deeply dedicated to creating performance and constructing live images that work towards a queer Islamo-futuristic movement. Her recent works include Masjid Al-Munfaletat (The Mosque of Loose Women), an immersive theatre experience that follows the re-imagined lives of three "martyr" women: Loujain Hathloul, Dina Ali Lasloom and Qandeel Baloch.