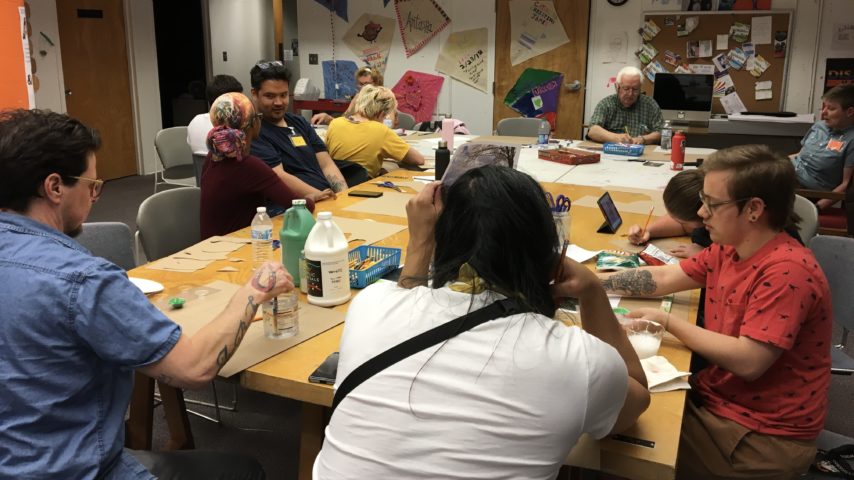 Stay Gold
hybrid program
for adults and youth ages 13+

Tuesdays 5:30 – 7:30 PM
March 1st, 2022 – May 3rd, 2022
3 in-person classes at MOCA/ 7 online classes
Stay Gold is an intergenerational LGBTQIA+ arts program. The Spring 2022 Season will be facilitated by Tucson-based artist Lex Gjurasic. Through a combination of both in-person and online classes, Lex will lead participants on a journey of self-discovery as they learn to create dioramas inspired by their own stories. The program will include a weekend field trip to the Mini Time Machine Museum of Miniatures. New and familiar faces are welcome! No art background is necessary! Generous support for this program is provided by the Institute for LGBT Studies at the University of Arizona.
This program is free for participants.
We ask that all participants be fully vaccinated against COVID-19 before the start of the program.
Register here.
Meet the Instructor
Lex Gjurasic (she/her/hers) is a visual artist from the rain-soaked Pacific Northwest currently living in Tucson, AZ. She has exhibited her work nationally for over 29 years, most notably in 2009 as a featured artist in the exhibition Kokeshi: Folk Art to Art Toy at the Japanese American National Museum in Los Angeles, CA. She has been nominated as a finalist for numerous awards, including Tucson Weekly's Best Visual Artist in 2018 and the Governor's Arts Award in 2021. She was recently invited to collaborate with the New Mexico based art collective Meow Wolf as part of the permanent immersive experience Convergence Station in Denver, CO. Her solo show, Radical Happiness, is currently on display at Vision Gallery in the Chandler City Hall Complex.