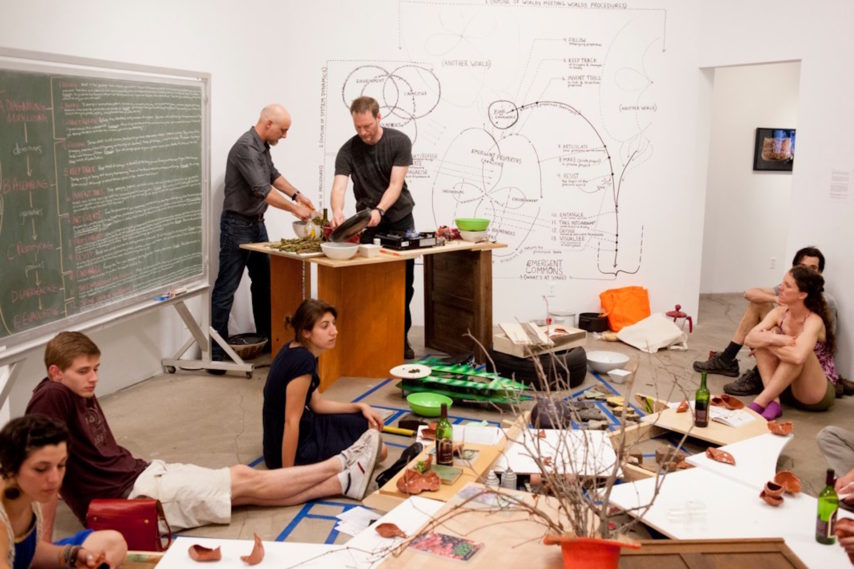 WORKSHOP – SPURSE: EATING AND BEING EATEN
June 15, 2019 1:00PM - 3:00PM
Saturday, June 15
1pm-3:30pm and 7-9:30pm
FREE
What does it mean to talk to rocks or furniture? What does it mean to model the human on plants? Join SPURSE for a series of exercises and conversations over a very light meal on living well after Nature in the age of the Anthropocene.
A series of exercises and conversation with SPURSE about how to imagine and live in a world without Nature or Culture.
Eating and conversing with a rock. A geo-cosmological tasting and conversation. 1-3:30pm
An evening conversation with fungi. A myco-cosmological conversation and sampling of spontaneously fermented beverages. 7-9:30pm
Gallery Walk through (optional).
Photo credit: SPURSE
ABOUT THE ARTISTS
SPURSE is a creative design consultancy that focuses on social, ecological and ethical transformation. SPURSE works to empower communities, institutions, infrastructures, and ecologies with tools and adaptive solutions for system-wide change. Drawing upon diverse backgrounds that span the fields of science, art, and design, they utilize unique immersive methods to co-produce new ecologies, urban environments, public art, experimental visioning, strategic development, alternative educational models, and expanded configurations of the commons.
The workshop SPURSE: Eating and Being Eaten is presented as part of the exhibition GROPING in the DARK, curated by Alex Young.