October 5th-December 29th, 2019
Ali Silverstein: The Fantastical Reconstruction of the Epine GY7 Chapter 1: The Fragments
In 1948, in the icy waters off the west coast of Iceland, a British fishing trawler called the Epine GY7 wrecked. The remains of the ship washed up on a remote beach near the Snaefellsness Glacier.  Seventy years later, the rusted remains, unrecognizable as the ship they once comprised, create an enigmatic landscape full of latent potential and a dormant, almost kinetic energy. 
Silverstein is documenting and archiving these three-dimensional fragments into graphic two-dimensional rubbings—a process imbued with ritual and remembrance. The rubbings, photographs, and video are just the start of the journey. Using the pieces from this constructed archive, the artist has begun an attempted reconstitution and memorial.  This exhibition presents Chapter 1: The Fragments. 
Rachel Frank: Thresholds
Rachel Frank's Thresholds takes its name from her featured video, made while in residence at MOCA Tucson and filmed within the fragmented current habitats of the Sonoran Pronghorn in Arizona. The video considers the establishment of wildlife corridors, passageways that allow for the movement of animal species between habitats separated by manmade development. Frank uses the wildlife corridor as a synecdoche for issues impacting the ecosystems of the southern Arizona Sonoran Desert's borderlands: wildlife fragmentation; migration; borders; climate change; droughts; and the changing uses of the desert.
Caroline Wells Chandler: Close Encounters
Caroline Wells Chandler is a prolific multimedia artist best known for his hand crocheted colorful queer arenas.  Stemming out of American folk art, psychedelia, and a 1970's feminist craft history, Chandler's brightly colored realms explore gender, representation, and the art historical canon.  Bridging fifteen years of making by presenting two distinct bodies of work, Close Encounters is the first time that Chandler's earliest anatomical studies are shown in tandem with his more recent crocheted figures.  
Lilly McElroy: So Long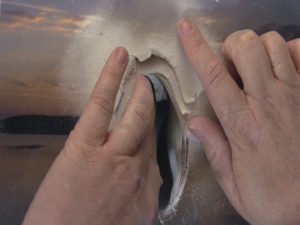 Lilly McElroy grew up in southern Arizona amongst cowboys riding bulls, coyotes howling on moonlit nights, beautiful sunsets, and vicious brawls. McElroy's artistic practice revolves around translating those experiences and clichés into epic photographs and playfully antagonistic videos. The projects McElroy pursues are a reflection of her complex relationship with the American landscape and explore what it means to be an American in a time of diminished expectations.
McElroy's explorations present a cinematic approach—making films edits with physical pleats, moving backward in time through the removal of matter, and creating theatrical sets that recall megalithic light-keeping calendars. While duration is certainly a measure of time, it also often functions as an appraisal of both labor and love. The work in this exhibition redirects the sun from a dominant presence into a subservient role as the artist captures the image, prints it, and recasts it into objects that become malleable forms—allowing her to alter and fold, but also touch and hold.