Stay Gold Spring 2021
March 16, 2021 - May 25, 2021
Inspired by rafa esparza + Timo Fahler's upcoming exhibition at MOCA (Fall 2021), the spring season of Stay Gold examined personal and communal histories of queerness as they relate to time, place, and systems of power.  Through response to artwork, reflection, facilitated dialogue, and artmaking focused on material representation, the group explored the intersections of our identities and considered how individual experiences might shape our participation within communities.
Our completed projects, inspired by rafa esparza's adobe bricks, display various aspects of our origins, identities, histories, hopes, fears, relationships, and joys; composed on many sides, in myriad ways, through textures, colors, and material elements.
"I continue to be inspired by artists who are unapologetically themselves, expanding and breaking from the canon by virtue of daring to dream big from their subjective positions that have been systemically and institutionally marginalized.  Many of them make up a community of makers, and thinkers that I am lucky to call friends, peers, family."
— rafa esparza (in Hyperallergic, 2020)
Spring 2021 Gallery
Photographs by Lane Smaka.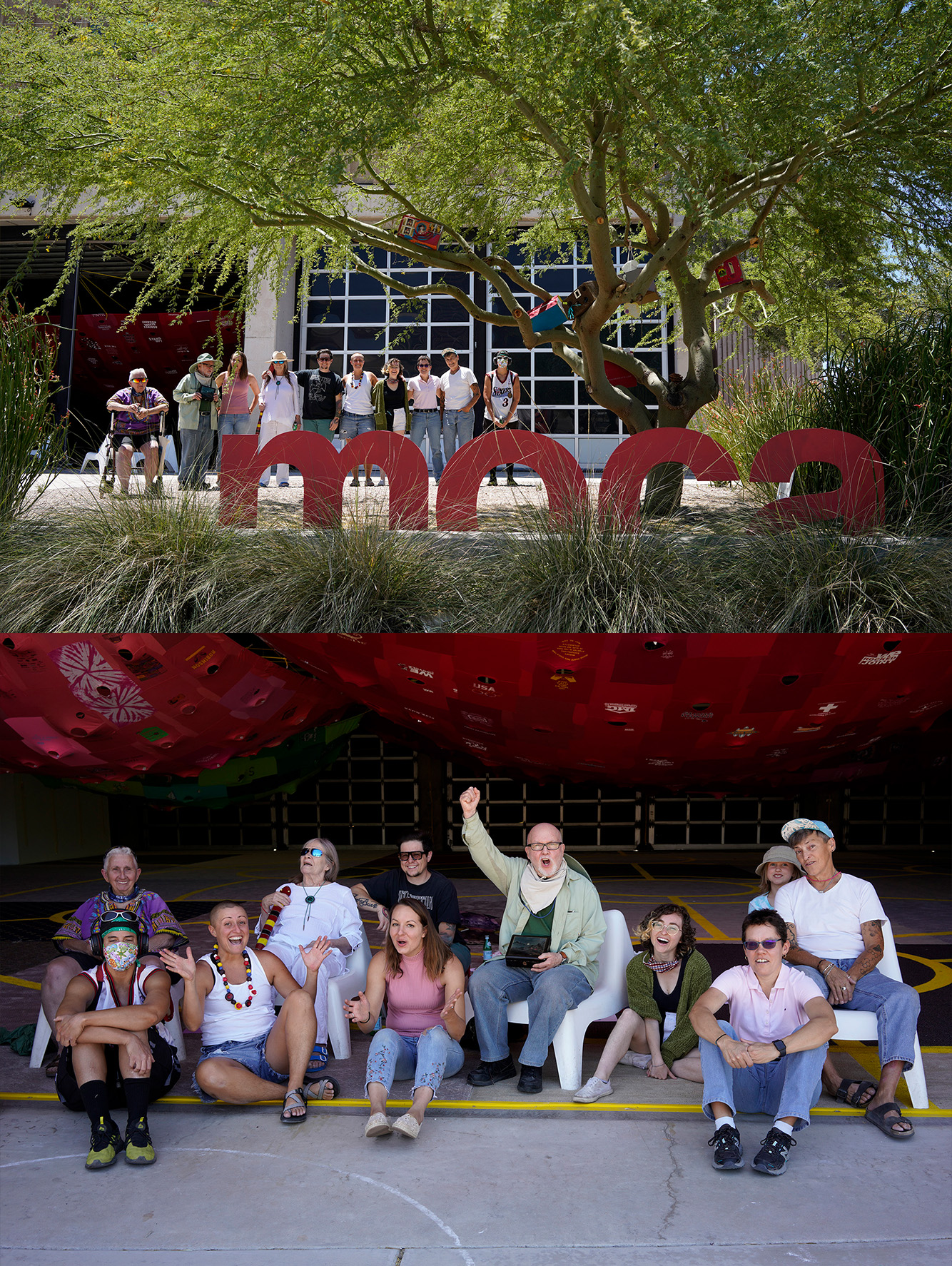 Gayle Brickert-Albrecht
Em Miller
Title (above): HOLD ME AS IF IT IS EQUALLY A CHOICE NOT TO.
Materials: salt dough with oats, ground coffee beans, popcorn, chili powder, cocoa/sugar/cinnamon, gold glitter; collage of selected text from "Lesbians Speak Out" (1974); glossy glue, twine, tempera paint, cardboard.
Janet "Stets" Stetser
Project is my Great Grandfather's Oriental box into which I put photographs of what is precious to me along with hopes and wishes. I chose this box because I like the calming twilight scene I was born intersex so I feel like twilight. This scene has many things I wish for such as the mountain in the distance, birds in formation in the sky no pollution, calm water with a home near the shore made of natural materials through whose windows shine light from family  dwelling inside. A water wheel stand motionless for the night a natural method for grinding seeds,  etc into fresh flour. Trees stand near the home. I am often lonely for family at age 68 I experienced much abandonment abuse and marginalization as well as civil and human rights violations including violence committed to me a child and teenager. I continue to live in a world that does not understand us. I have over 42 years clean and sober and a Master's Degree in Social Work among other degrees including studio art, and my book is my gift back to God a service to mankind to help educate. I made sure it is extremely well  sourced and well referenced. It is international in scope having researched 30 countries with robust resources including support groups. My genetics physician who wrote the Foreword edited my manuscript twice for medical accuracy and we discuss 40+ variations of intersex in chapter 2. I helped design the over for prosperity and simplicity bold yellow gold and purple half-circle into which only the title, author, foreword are showcased.
When I put my books cover photograph and my smiling vulnerable eyed baby picture which demonstrates there was nothing wrong with this wonder child who was so badly abused only for being himself, dressed as much as a boy as I could age 5, miserable in mother's wardrobe starched girls dress on exhibit age 9, sober and clean 1981 and my ally friend Grandma Petersen's photograph in support I feel this is like turning it over to God for help. Help to continue to heal, to be a better citizen, to be more loving kind and prosperous. To put good energy upon my book to help get it out there inthe world to help educate and save lives. My hopes and dreams wishes include one day a nice girlfriend because I suffer from a lot of loneliness.
I helped the publisher in London design my book cover to bring energy of prosperity strength and simplicity to my book and to all who look upon it. I want to help make the world a better place.
Jessica Kingsley Publishers
London and Philadelphia
It is Peer-Reviewed and Professionally endorsed.
OVERVIEW
This comprehensive yet accessible resource provides readers with everything they need to know about intersex – people who are born with any range of sex characteristics that might not fit typical binary notions about male and female bodies.
Covering a wide variety of topics in an easy-to-read way, the book explores what intersex is, what it is not, a detailed overview of its 40 or so different variations, historical and social aspects of intersex and medical intervention, along with practical, proven advice on how professionals can help and support intersex people.
Written by an intersex man with over 65 years of first-hand experience, this book is an ideal introduction for any medical, health and social care professional or student, as well as family members and friends, seeking to improve their practice and knowledge.
Melanie Gray
Nicole Santarsiero
Meredith Glaubach
Artist: Ben Zorro Griffith [BZG] (they/them)
Brick Name: "BZG: My Origin is In Between Worlds"
About the Brick: This brick is how I best interpret some of my origins as trans*/non-binary, mixed-BIPOC, and the elements/characteristics that make me who I am (all as identified by the different colors/shades and shapes/designs of the paper used). The visual presentation is mostly segments of my own poems with few (but specific) images in conjunction with some of the words. The straw on one of the long edges signify the tightrope I tend to walk in my ambiguity within a very polarized world. This process came about as an adjustment to the original idea inspired by my participation in the Poetry Message Bowl event back in April, where I utilized the same idea but in paper form to display parts of my own written works in a media form other than just books or broadsides. I also illustrated non-conformity in the presentation of my written works by displaying them in different styles and opposite directions to each other — which as well displays my own relationship with my origins being kind of at odds with each other in non-traditional/unconventional ways.
Susannah Myerson
Kel reading poem that accompanies this piece
Kel Goldkuhl
Carolyn Flower
This season of Stay Gold is dedicated to our beloved friend, Ellen Melamed.